Visiting the Battleship Texas - January 4, 2016
Visit the Battleship Texas on the final day of Christmas break
Girls are excited to finally board the mighty ship
The Big T is still looking good coming up on it's 102nd birthday though efforts are underway to turn this into a drydock
Daddy pays $12 to board and the girls board for free
The girls finally cross the threshold to board the mighty ship
Secured without chains since the elementary school field trip debacle
The Battleship Texas is a National Historic Landmark
The girls promptly hop onto a 3 inch gun
Man your battle stations!
Switch seats and elevate this bad boy to ward off kamikazes
Board the ship at turret 4 and will inspect 3 decks down and 3 levels up
Back as far as we can go astern, between turrets 4 and 5
Stern roped off to store equipment to refurbish the wood deck
Alex inspects another 3 inch gun We are locked and loaded, daddy!
Ships bell stamped 1913 hangs on the aft superstructure
Girls touch the barrels of turret 3's 14 inch guns
Turret #3, aft superstructure, turret #4 and turret #5
Lets see the full antenna of the aft superstructure
Daddy, we are holding the barrel off the deck
There you are, let me focus in and see my little girls
Check out the open air kitchen on the way to the enclosed 5 inch guns
That is a lot of large pots but can they feed 1000 crewman?
Pass a maintenance room as we enter the enclosed main deck
Into the covered Air Castle to check out the 5 inch gun battery
Aim this gun toward the ship channel in case of pirate activity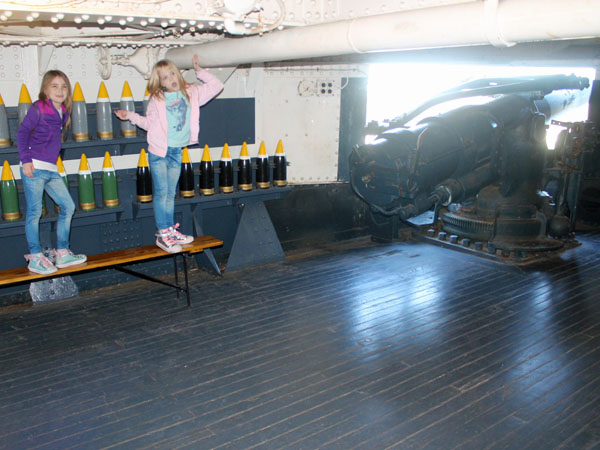 Pass the shell display toward the port side forward facing guns
There would be a nice breeze manning these guns in battle
More shells on the inner wall and wisely bolted down
Rather loud area to put a bakery!
Check out the starboard side 5 inch gun battery
Daddy, this gun is aiming at our car in the parking lot
Let's adjust the aim to the car that double parked
Arms race had US keeping pace with Japan but not England or Germany
Looks like I am not getting a 5 inch shell souvenir after all
Aft starboard 5 inch gun aims toward the boarding bridge
Pay attention when getting a drink of water or you might be surprised
The Air Castle was great fun, what could possible top it?
Head forward and view the 5 inch guns from outside
Texas was the first battleship to be armed with machine guns in WWI
Continue forward for a nice view of the main superstructure
Wow, these guns are even bigger that the 5 inch guns inside!
Look at these chain links, they are huge!
Erin almost has a Titanic moment at the ship's bow with the Monument
The business side of the ship, time for many photos!
Vast deck shot with main battery and super structure
Vertical main battery and superstructure . . . SWEET!
Top mast superstructure . . . would love to climb up there someday
Focus on the big 14 inch guns of turrets 1 and 2
Not going to fall through the anchor port today
Daddy and his girls pose with the Big T
One more for a facebook profile photo
Moving aft to check out one of many 20mm maching gun mounts
Port side view of protruding 5 inch guns and anti aircraft armament
Girls find the hatch to enter turret #1
Left barrel has a shell ready to push into the chamber
Right barrel with one of four powder charges required to fire
Erin climbs down out of turret #1
Climb down to the 2nd deck and find the ships find silver
Officers are ready for their Christmas dinner
Officer's quarters with room to turn around and only one bed
Officers bathroom with toilet and shower
Bleeding edge technology from 1925
Girls think of lunch when passing by the officers mess hall
Beds are everywhere space allows it throughout the ship
The ship's store has plenty of items for sale
Dentist office has a soothing wall of rivets to look at
Barbershop has three empty chairs and no waiting
Enlisted bunk room with decent headroom between the bunks
The girls are not excited about the enlisted bathroom
Down to the 4th deck to view tightly enclosed ancient machinery
Check out the radio room before heading back up top
View of quad 40mm mount while climbing to upper decks
Higher view of turret #3 and aft superstructure
Erin checks out the functionality of another 3 inch gun
This 3 inch gun took out the San Jacinto Inn in 1987
Only turret #1 is accessible, the other four are locked up
Alex checks out the quad 40mm protecting the parking lot
Erin gives a salute to the San Jacinto Monument
Ship side view of 5 inch gun and ship anchorage with Monument background
Starboard side view of battleground bathroom and snack house
Battleship giftshop, ticketing area and entry ramp
Entry ramp reaches the ship aft starboard side at turret #4
More quad 40mm guns as we climb higher up the superstructure
The pilot house was the only place of wartime damage off Normandy
Great view outside the pilot house over the guns toward the monument
The more modern twin sisters aim toward Santa Anna's camp
20mm single guns and quad 40mm gun emplacements
Closest available view of the top most superstructure
Site of San Jacinto Inn Restaurant long enjoyed until 1987
Downward view of ship's crane and one quad 40mm gun emplacement
View over crane toward ship channel
Weathered spotlight on an upper, unreachable deck
Another view of ship channel beyond crane and turret #3
Head toward the exit and a complete tour on a beautiful day
Deck board replacement underway using 4x4 inch boards
Alex gives the Texas a finally salute from the last 3 inch gun
Erin balances upon three 14 inch shells before departing the ship
Closer view of the mooring supports from the exit ramp
Final view of the #4 and #5 turrets and rear machine gun emplacements
Battleship Texas always faces the San Jacinto Monument
The three versions of the ship through the war years
Entry ramp reaches the Texas on the starboard side of turret #4
Side view of the three starboard 5 inch guns
Head towards the bow for increasing photos of awesome-ness
She looks great for 102 years old but she is high maintenance
Hope to find her in drydock one of these days to keep her around awhile