Texas @ Virginia - September 26-29, 1996
Fly to Baltimore and then drive to Richmond, VA
Get a red Buick Skylark that SCREAMS "rental"
Visit the
Edgar Allan Poe Museum
in Richmond
Inside the Poe Museum Enchanted Garden courtyard
Other side of Enchanted Garden towards the Poe Shrine
David inside the Poe Shrine
Drive by the Virginia State Capitol building
Enjoy some unique architecture downtown
CSA's Executive Mansion now
Museum of the Confederacy
Bill "Bojangles" Robinson - tap dancer and actor
Head to Charlottesville to see Jefferson's
Monticello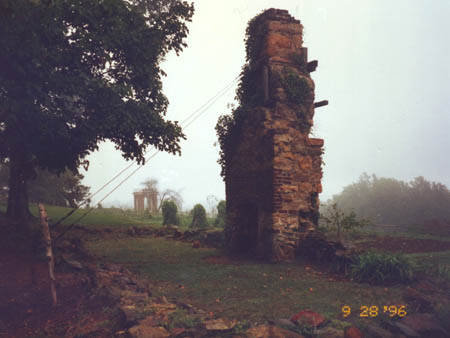 Stone chimneys still remain from the slave's wooden huts
Vineyards are planted beyond the stone chimney
David poses in the vineyards, hurry up & ferment already!
View of vegetable garden terrace
The flower and vegetable gardens of Monticello
Thomas Jefferson retired after the Presidency to Monticello in 1809, if it looks familiar, it's on the back of the nickel
We took a tour but no photos inside
Look at me! I'm on the back of the nickel!!
Brad looks down on a very big nickel
Walk around to the other side of the Monticello
The touring party (Melinda, Robert, Brad) stops for a pose
Take the winding flower walk and head towards . . .
. . . the Monticello Graveyard where Jefferson rests
The fancy gate to the Monticello Graveyard
TJ: Author of the Declaration of American Independence & the Statute of Virginia for Religious Freedom
The obelisk also states him the Father of the University of Virginia and he lived from 4-02-1743 to 7-04-1826
Monticello Graveyard has direct descendants & spouses
Offices below while heading back to the parking lot
Tour the campus of the University of Virginia
David gives his best Jeffersonian pose
The Rotunda, completed in 1826, now houses offices
View of odd numbered Pavillions in the Academic Village
View of Rotunda from the inside the Academic Village
McIntire Amphitheatre is mainly used for student gatherings
View of the stadium from Melinda's apartment
Parking garage tailgating is within stumbling distance!
UVA tickets are a buck less than UT home games!
#13 Texas' first road game of the year at #19 Virginia the week after losing to Notre Dame in Austin. Tiki Barber has 3 TDs in the 1st quarter after 3 James Brown turnovers
Priest Holmes has UT's only TD in the 3rd quarter
The only rain of the entire weekend was during the game
Texas is doomed to a 37-13 loss after six turnovers
Melinda & Robert see us off after Sunday breakfast
Brad, Rob, & David enjoy meeting up out of state
The Skylark tries to pass a truck on the way to the airport